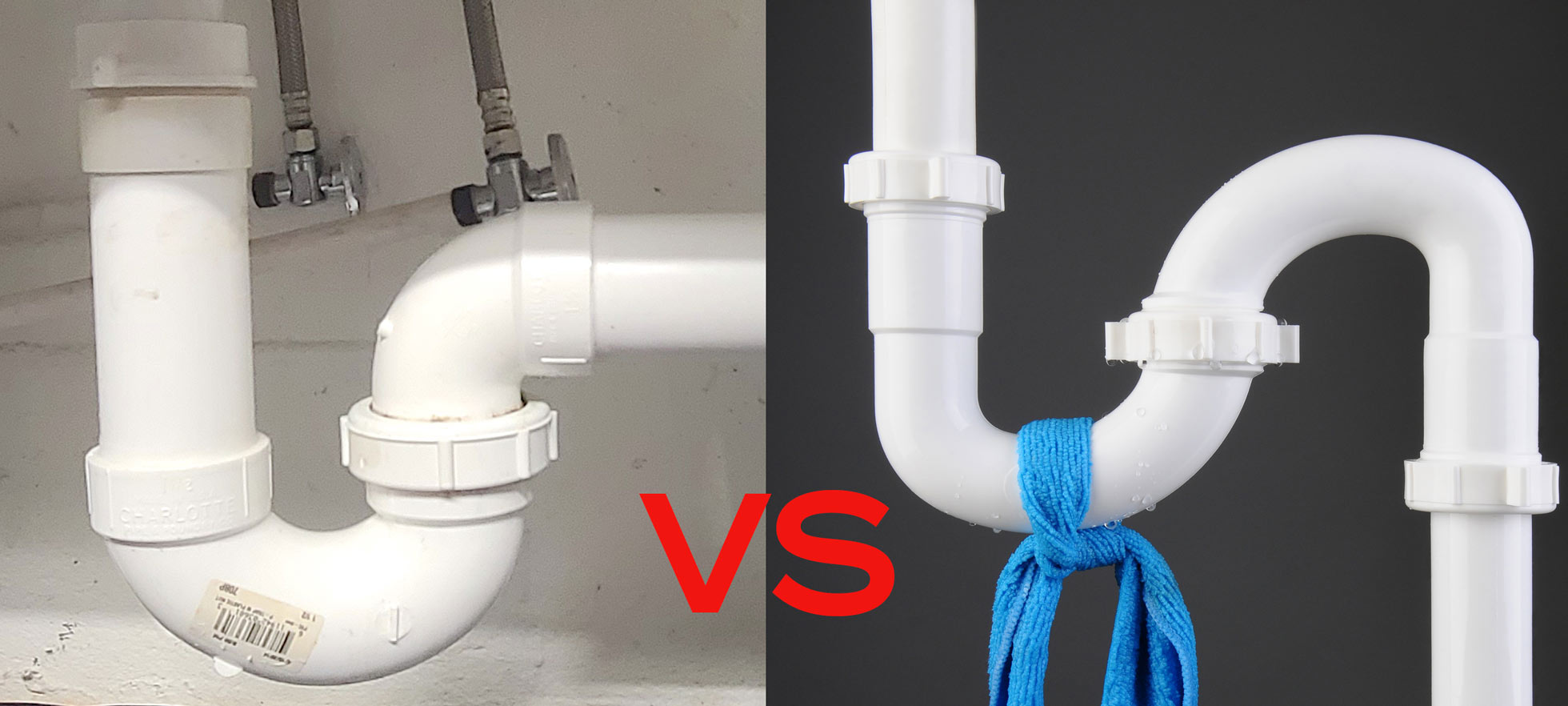 What is a plumbing S-Trap and why are they dangerous?
A common plumbing defect often found under sinks, in older and remolded homes, is the presence of S-traps. These plumbing traps are shaped like an "S" laying on its side.
S-traps are often located under plumbing fixtures that aren't properly vented, or in remodeled homes when the plumbing was a DIY project or a quick fix.
Many of us think that the only reason for a drain trap is for "trapping" items that inadvertently fall down the drain, like a wedding ring, or a small doodad that happens to fall in there. And yes, plumbing traps gives us a chance to retrieve those items before they make it too far down the drain. If there was no trap, and the drain pipe just went straight down, it's bye-bye to whatever fell in there - forever!
However, retrieving lost items that fall down a sink drain is just a side benefit of plumbing traps. The real reason traps are required at each plumbing fixture (toilets and bathtubs included) is to prevent dangerous sewer gasses from flowing up through those drains into the home.
So how does a plumbing trap keep those nasty sewer gasses out of the home? They do this by their shape. The "U" shape at the bottom of all traps, trap enough water in them to form a water seal. Having enough water in the bottom of the trap prevents sewer gasses from flowing up through the trap and into the home.
If you've ever walked through a home that has been vacant for a while, you've likely smelled sewer gasses, because the water in the traps have evaporated out over time. (Because of this, when a home is vacant for a while, or you're on an extended vacation, someone should come by once in a while and run some water at each sink and tub, and flush the toilets in order to re-fill the traps with enough water keep them sealed against sewer gasses.)
So, back to what's wrong with an "S" shaped trap? It has the "U" shape at the bottom to trap water so what's the problem? S-Traps were allowed for many years until someone figured out that when someone fills a sink with water that has an S-trap, like when hand washing dishes and then they pull the drain plug, the shape of the S-trap allows the draining water to siphon ALL the water out of the trap and down the drain with it, just like when someone siphons gas out of a car's gas tank. When that happens, the protective water seal at the bottom of the S-trap is gone and those nasty sewer gasses can come right up into the home again.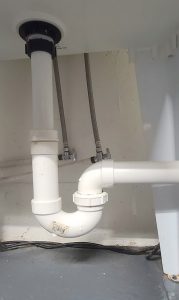 To keep that from happening, the plumbers of the world came up with a new shape of trap commonly called a P-trap or a J-trap (again due to its shape). The shape of this trap prevents the water at the bottom of the trap from siphoning out, the way that S-traps do, by making the drain water move horizontally for a few inches before draining down again, usually behind the wall.
So, what to do if you have any S-traps in your home? Call a licensed plumber right away and get them replaced! If you don't, you are running the risk of more than just a stinky home, those sewer gasses can make you sick and can be harmful to your health, especially when people are sleeping, and the home is closed up for the night.