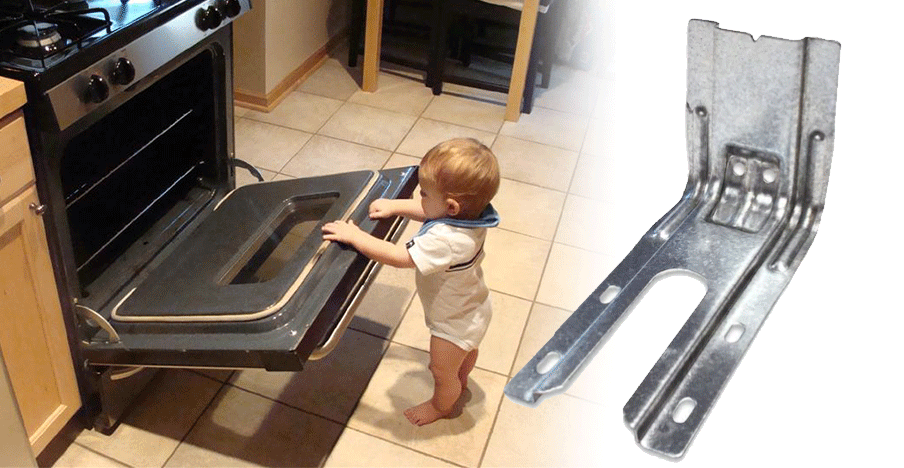 What is a Range Anti-Tip Device and Why is it so Important?
Also called a range safety clip, these devices secure fee-standing ranges to the floor or back wall, preventing them from tipping when the oven door is open and/or an oven rack with weight on it is pulled out. Think of these situations:
You're in the process of making dinner and have something cooking on the stove. The phone rings, you look away for a moment and start chatting when suddenly, your worst nightmare happens. Your child has wandered into the kitchen, saw that there was something cooking on the stove and decided to try to get a better look. Suddenly the entire stove tips forward from the child's hanging on the edge and the boiling water on the stove top slides off and...well, you get the picture.
You have a Thanksgiving turkey in the oven. The timer goes off and it's time to take it out. You grab the oven mitt, pull out the rack that the turkey is on and suddenly, the oven tilts forward and the turkey slides off the rack spilling all that hot meat and juice all over your legs, scalding your skin.
Sadly, these and other scenarios happen every day. Since 1980, over 30 deaths have occurred from these situations, not to mention the host of other injuries that have occurred. As a result, the American National Standards Institute (ANSI) and Underwriters Laboratories (UL) created standards  that require all ranges manufactured after 1991 be capable of remaining stable while supporting 250 pounds of weight on their open doors.
Home Inspectors in North Carolina are required to inspect range anti-tilt devices and, although manufacturer's instructions require the anti-tilt brackets that are now required to be included with the purchase of all ranges be installed, we all too often find them missing.
These anti-tilt devices are such a simple and inexpensive item to install. A small bracket mounts to your choice of floor or wall at the back of the range so that when the range is slid back in place, it interlocks with the back leg of the range.
If your range does not have an anti-tilt device installed, contact a reputable handyman. They'll be able to pick up the bracket at your local hardware store and install it in under half an hour. It's a small price to pay for such an important safety feature!