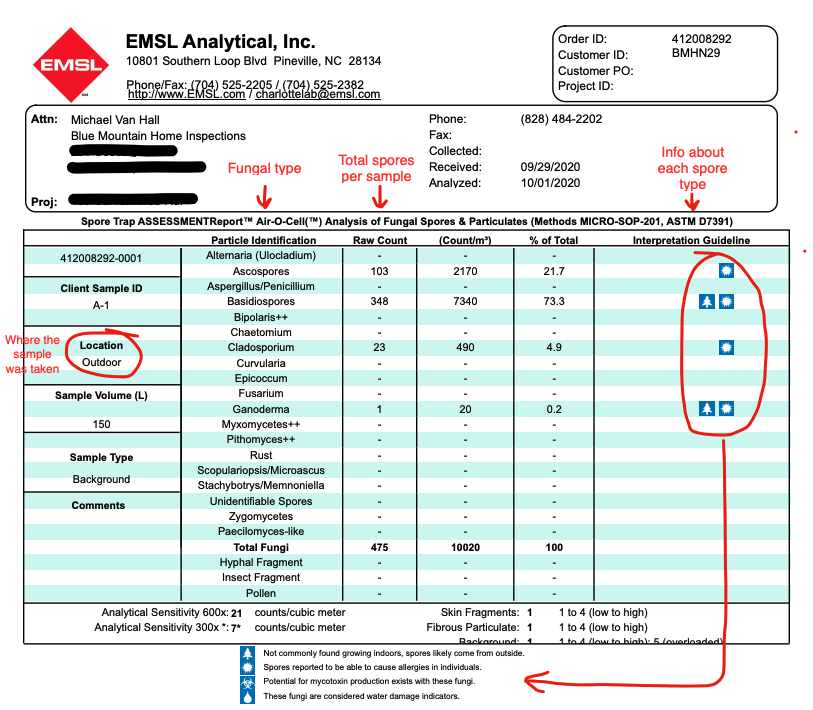 Understanding your Air Quality Test Results
Your Air Quality test results are important to understand, so here's a little help.
First, realize that fungal spores are everywhere, all the time, both inside and outside the home, so don't freak out if you see some red on the report labeled ELEVATED.   That does not necessarily mean that there's a problem. It merely means that that particular fungal spore count was at least 10 times higher than in the outdoor sample. Whatever that number is, it still may not be a cause for concern. It depends on the type and total amount of spores.
When we test for air quality, we take three samples of the air in different locations—one sample from outside the home and two samples from inside the home. When the results of the test come in, we compare the two inside samples against the outdoor sample (which is called "background" on the report). If any of the inside samples have significantly more mold spores than the outdoor sample, then we know something is going on in the home.
If your report shows elevated levels in any of the samples, give me a call and we'll talk about it and determine if you need to take any steps toward mitigation.
Below is a sample report with some notes to help you in understanding the form: (Select the report to open the full PDF with details and explanations)
---