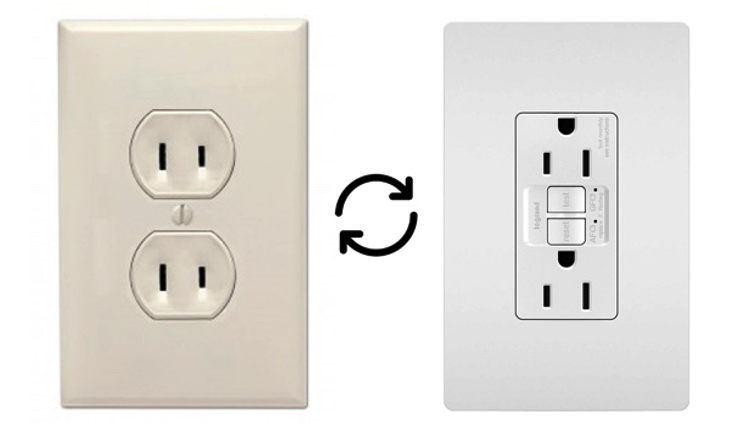 Is it safe to replace two-prong outlets with 3-prong outlets?
The simple answer to this question is no!
As home inspectors, we often run into older homes where the occupants have gotten fed up with having to find that little adapter so they can plug their appliance cord into a two-prong outlet.
Sound familiar? Often, their answer to this problem is to run out to the local hardware store, buy a bunch of cheap three-prong outlets and just change them out. Presto, no more need for that goofy adapter! But there's a problem. You cannot simply buy new three-prong outlets to replace two-prong outlets and wire them to the same wires. It's unsafe and could result in electrocution.
Okay, now that we know this, let's start over. There is nothing wrong with a home that has two-prong outlets. They are still allowed and considered safe. Plugging in a power cord with two prongs into a two-prong outlet, such as a lamp cord, is fine. However, if you need to plug in an appliance power cord that has three prongs into a two-prong outlet, there is only one way to do it safely, and that's by using that adapter—but only by using it correctly. (See How to use an outlet plug adapter safely)
The problem with two-prong outlets is that whatever is plugged into them is not grounded. (We won't go into the ins and outs of grounding here but just know that three-prong power cords come with appliances that require grounding to be safe.)
But what if you want to avoid using that pesky adaptor and you don't want the expense of a complete and costly re-wire of your home? There are a couple of relatively low-cost solutions:
One is that you can simply switch out your two-prong outlets with GFCI outlets. You know, those outlets you usually see in kitchens and bathrooms with the little test and reset buttons in the center? However, you cannot do this in areas such as kitchens and bathrooms, where the outlets are within 6 feet of a water source like a sink, shower or toilet. Those outlets need to be fully grounded GFICs to ensure safety. (See What are GFCI outlets and why are they important?)
While GFCI outlets will not protect your electronics from power surges, they will protect you from electrocution and short circuits. But remember, if you do replace your two-prong outlets with GFCIs, you are required to label them as "GFCI Protected Outlet/No Equipment Ground." (Most GFCI outlets you purchase come with these label stickers in the box.)
The other solution is that you are allowed to replace your two-prong receptacles with normal three-prong ones if, and only if, you add a GFCI circuit breaker to that circuit at the service panel. But again, remember that if you do this, you will be required to label all the outlets on that circuit with a sticker that says "GFCI Protected Outlet/No Equipment Ground."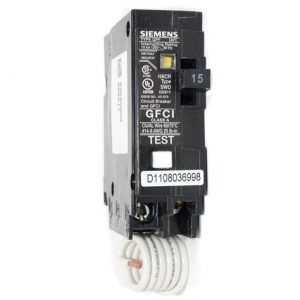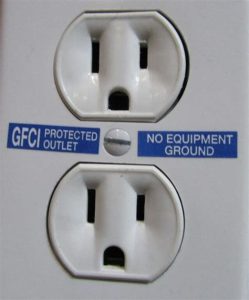 Whatever you decide to do, you will be required to have a licensed electrician do the work in order to ensure the safe and proper installation of these upgrades.